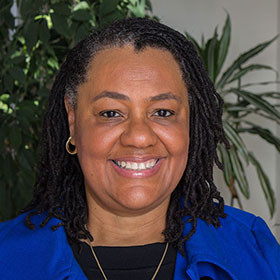 Phyllis Young
Owner of Truth & Life Nutritional Consultants 
Phyllis Young graduated from CUNY Lehman College in Bronx, NY in 1982 with a dual B.S. degree in Anthropology and Biology. In 1988 she earned a second B.S. in Physician Assistant Studies from The City College of New York, Sophie Davis School of Biomedical Education and subsequently completed a year long internship in General and Special Surgery at Montefiore Medical Center in Bronx, NY. In 2012 Phyllis began training with the Institute For Functional Medicine and earned certification as a Functional Medicine Practioner in 2016. Over the past 28 years she has worked as a Physician Assistant in a variety of clinical settings including Cardiac Surgery, Cardiology, Internal Medicine, Family Practice, Emergency Medicine and Functional Medicine. She also spent a number of years organizing and participating in short term medical mission trips to several countries in Africa, as well as to India, Cambodia and Israel.
Phyllis currently lives in Marlboro, NY. She's a single mom who has raised one grown daughter. She enjoys living a simple life in the country where she utilizes the local CSA for most of her food and enjoys taking walks along the Hudson Valley Rail Trail.
By shifting the traditional disease-centered focus of medical practice to a more patient-centered approach, functional medicine addresses the whole person, not just an isolated set of symptoms. Functional Medicine practitioners spend time with their patients, listening to their histories and looking at the interactions among genetic, environmental, and lifestyle factors that can influence long-term health and complex, chronic disease. In this way, Functional Medicine supports the unique expression of health and vitality for each individual.
Functional Nutrition emphasizes the importance of high quality foods and phytonutrient diversity to address clinical imbalances at the cellular level and move individuals toward health from the inside out. Advanced nutrition assessment and a thorough Functional Medicine based history leads to a personalized therapeutic intervention created to promote optimal health and prevent diet and lifestyle related disease.