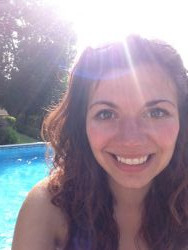 Alyssa Bellarosa
Licensed Massage Therapist
I started my "professional career" as an Occupational Therapy Assistant in 2010. Soon after I became a Reiki Master in hopes of expanding my resume. In April 2013, I took my first Bars class and life hasn't been the same since! Never did I think that a simple hands on progress could be SO profound…
Since Access, I've been more and more aware and more in the question. As I give and receive The Bars on a regular basis, I find I have way more clarity and creativity. I've also noticed a greater sense of ease with myself; meaning I'm not judging myself constantly anymore.
Abuse, Addiction, Anxiety, Bipolar, Depression, ADD/ADHD, TBI, Autism, Dementia, Weight Loss – These terms should not define you. Who would you be if you were truly BEING you? I have clinical experience with pediatrics, geriatrics and everything in between.
Massage is a therapeutic process for manipulating superficial muscles, deep muscle layers and connective tissues using various techniques that accomplish:
Enhanced Function
Aid in the healing process
Promotion of relaxation and well being
Massage involves working and acting on the body with pressure and is done manually. Targeted tissues may include:
Muscles
Tendons
Ligaments
Fascia
Scar Tissue

Joints
Lymphatic Vessels
Connective Tissues
Organs of Gastrointestinal System
In our professional setting, Massage involves the client being treated while lying on a massage table, clothed or unclothed, or sitting in a massage chair. Throughout the session, the client is properly draped and covered; only the area being working on is exposed to the therapist.
Massage Therapy Options
Therapeutic needs vary not only from person to person, but from day to day. That's why we offer many different types of Massage to meet your needs at every visit
Deep Tissue Massage – uses a firm, sustained pressure which focuses on the deep layered muscles. Deep Tissue Massage can alleviate scar tissue, decrease referral pain from Trigger Points and enhance Range of Motion.
Swedish Massage – is one of the most popular types of Massage as pressure can vary from light to medium to relieve stress, boost mood and promote relaxation using long flowing circulating strokes.
Prenatal Massage – differs for each expectant mother and based on individual needs, delivery patterns and nutrition. Massage during pregnancy is a healthy way to reduce stress and promote overall wellness, along with relieving normal discomforts experienced during pregnancy.
Geriatric Massage – is directed to relieve anxiety and depression while contributing to overall well-being and flexibility. Designed with a light application of touch and gentle passive stretching, Geriatric Massage allows lymphatic movement and enhanced circulation of blood. It's helpful for a family member or friend to accompany the client to their appointment to further aid in relaxation.